Republican tournament for schoolchildren in astronomy and modern problems of astrophysics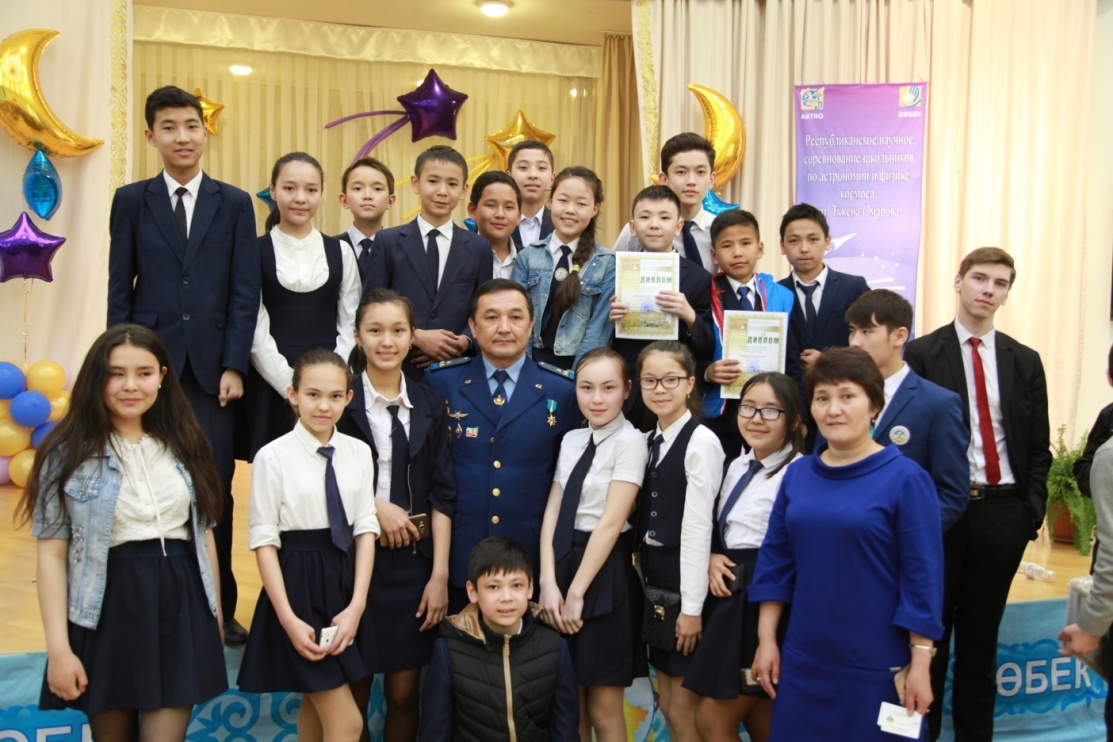 03.02.2017
From 25 September to 2 October 2016 in Almaty, on the basis of Observatory of NNPOOC "Bobek" the republican tournament for schoolchildren  in astronomy and modern problems of astrophysics was held. It was dedicated to the 25th anniversary of Independence of the Republic of Kazakhstan.
Astro tournament  is a personal-team competition of high school students in the ability to solve complex scientific problems, convincingly present their solutions and defend them in scientific discussions – "Astro battles". The tournament combines the advantages of research based on deep physical and mathematical training and school competitions supported by the spirit of healthy competition in the same conditions.
Teams of five people – the captain and 4 participants were invited to the Astro tournament. The members of the team did not change throughout the Astro tournament. The team was led by the captain, who was the official representative of the team. The number of teams participating in the Astro tournament was determined by the organizing committee. The teams participating in scientific discussions – "Astro battles" and their number were determined by the drawing. The tasks of Astro tournament and rules were previously provided to each team.
The reports presented at Astro tournament were short but quite serious research works requiring preliminary observations and experiments.
This year, applications were received from 14 regions of Kazakhstan, the cities Astana and Almaty. 23 teams – the participants of the Republican Astro tournament were registered. The total number of participants was120.
By the invitation of the organizing committee, the honorary guest and a member of the jury was the engineer of the Faculty of Physics, an astronomy teacher of UFML of Taras Shevchenko Kiev National University, Andrey Aleksandrovich Simon.
High professional level of the members of the jury, their knowledge of astronomy, physics and astronautics undoubtedly contributed to the popularization of these disciplines among the pupils of Kazakhstan.
The teams-winners of the Astro tournament were awarded diplomas of I, II, III degree.
From the General Director of NNPOOC Bobek the leaders of the teams got grateful letters with congratulations to the Day of the Teacher.
Third-degree diplomas were awarded to the team of Astana, the team of East Kazakhstan region, the team of Aktobe region, the team of Kostanay region, school No.140 from Almaty, the team from school No.126, Almaty.
The second place was taken by the team of school No.104 of Almaty, the team of North Kazakhstan region, the team of  lyceum No.165, Almaty
The first place was won by the team of West Kazakhstan region and the school team of "Tamos Education", Almaty.
This year, the Grand Prix was awarded to two teams for the first time, namely, the team of gymnasium "Self-cognition" in Almaty including Kadyrov Amirkhan – captain, Nurdavletov Dinmuhammed, Kislyakov Nikita and Slasten Daria, and South-Kazakhstan team including Tіldebay Asan, Adil Maksat, Amankeldі Nurgalym, Arynov Alikhan.